This is an archived article and the information in the article may be outdated. Please look at the time stamp on the story to see when it was last updated.
Seven automakers on Monday filed a brief in a federal court case challenging California's ability to set higher emissions standards—siding with California.
The case—Ohio v. EPA—is pending in the U.S. Court of Appeals in Washington. It was brought by 17 Republican-led states looking to revoke California's Clean Air Act waiver, which allows the state to set emissions standards higher than federal standards for itself and any states wishing to adopt them.
Petitioners now opposing California rules are the states of Ohio, Alabama, Arkansas, Georgia, Indiana, Kansas, Kentucky, Louisiana, Mississippi, Missouri, Montana, Nebrasks, Oklahome, South Carolina, Texas, Utah, and West Virginia. They argue that strict emissions standards are forcing a shift toward EVs, and thus represent a regulatory overstep.
2023 Volkswagen ID.4
Yet in an unusual instance of industry speaking up for stronger regulations, a handful of automakers have testified with California. They include Ford, Volkswagen, BMW, Honda, and Volvo, with Lucid, Rivian, and Tesla also represented on the brief through the National Coalition for Advanced Transportation, along with several electrical utilities and charging company EVgo.
The automakers essentially argue that California's emissions rules are in line with market forces, noting in the brief that demand for EVs has drastically increased.
"Given that California's program broadly aligns with consumer demand and other regulatory and market forces spurring electrification of the automobile industry," the brief reads "it does not represent a 'wholesale shift' in the nationwide vehicle fleet."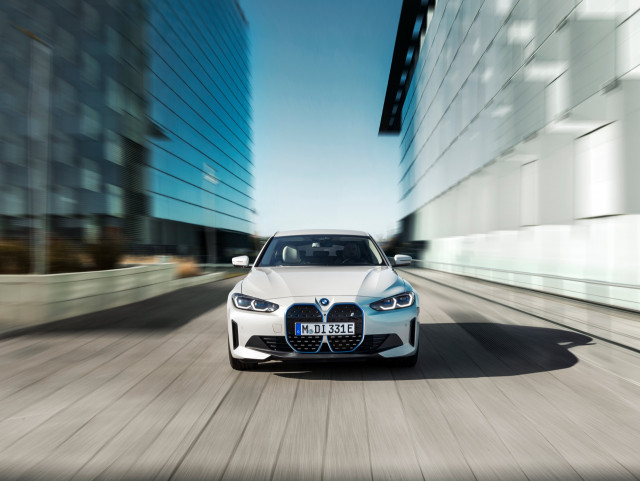 2023 BMW i4 eDrive35
Ford, BMW, Honda, Volkswagen also backed California during a previous challenge to California's emissions authority by the Trump administration. Several automakers supported the administration in trying to revoke California's Clean Air Act waiver—and held on to that opposition.
General Motors stopped actively challenging California standards in November 2020, days after a series of state results had been certified, assuring Biden's victory—but not before. Toyota finally recognized California's emissions authority only last year.
Following the election, the Biden-run EPA announced the plan to reinstate California's emissions authority in April 2021, and set the restoration process in motion at that time. Pending the outcome of the court case, this allows California to synchronize standards with its planned 2035 end date for most internal-combustion cars. Among vehicles with engines, only plug-in hybrids will remain, and even those will have to meet tighter tailpipe emissions and higher standards for electric range.
Related Articles