GlobeNewswire
Tome Charts Collaborative Future for Generative Storytelling
'Collaborative AI Partner' & multimodal vision empower the next generation of storytellers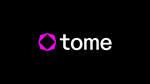 News provided by
Tome
Jan 24, 2023, 9:00 AM ET
SAN FRANCISCO, Jan. 24, 2023 (GLOBE NEWSWIRE) -- Tome, the new AI-powered storytelling format that unlocks your best work, captivated hundreds of thousands of creators with its December beta launch of generative storytelling. Now, the company has unveiled a multimodal vision for artificial intelligence (AI) in Tome and released a new suite of generative storytelling features built for intuitive collaboration with AI, including text rewriting, length and tone adjustments, and generative prompt bar customization.

With a single prompt, generative storytelling in Tome enables creators to generate full narratives, presentations, or outlines from scratch, complete with intelligent titles, pagination, page layouts, and page content, supported by GPT-3 and AI-generated images. Viral adoption of Tome sparked rapid innovation and an expanded AI roadmap designed to give everyone a collaborative AI partner to help them create their best work.
"From the start, Tome was always meant to be a completely new way to share ideas and help anyone tell a compelling story. We built Tome to be a responsive, intelligent partner, not a static page. We knew that the technology we could tap would keep expanding. And if it benefits storytellers, we want it in Tome. So for us, weaving generative AI into Tome was a no brainer," said Keith Peiris, co-founder and CEO of Tome. "We're in the early stages of seeing how generative AI can empower storytellers and give more people a voice. We're making AI in Tome as creator-focused as possible. That means building on powerful, large models, as well as continuing to tailor our own AI to create highly collaborative experiences that fit naturally with the way people work."
Tome's AI features offer greater control over the generative storytelling experience. Creators can now prompt Tome's AI to rewrite copy while maintaining its length, adjust text to be more concise or more elaborate, and specify the most fitting tone of voice: inspirational, formal, informal, objective, persuasive, or playful. Additionally, Tome's revamped prompt bar lets creators specify output type (presentation, story, or outline), as well as image style (Neo Impressionist, Pop Art, Fantasy, Cyberpunk, Anime, and more).
"We've always been obsessed with making it easy for anyone to translate the idea in their mind into a live, interactive story. Now, with AI-powered tools, no one should have to become a prompt bar engineer to successfully generate a story that helps bring their work or ideas to life. Everyone who uses Tome should be able to quickly create a polished artifact, regardless of whether or not it's AI-assisted," said Henri Liriani, co-founder and CPO at Tome.
Tome's format is considered ideal for training machine learning models, as well as leveraging open source technology. It's built on a tile system that makes it easy to analyze content and populate responsive pages with any content type, including AI-assisted output. Further, anything on the internet can be easily embedded as live, interactive tiles in Tome, including Figma prototypes, Airtable spreadsheets, Looker dashboards, YouTube videos, Tweets, and GIFs. The combination of Tome's technical foundation and extensive integrations make it uniquely positioned to apply machine learning models over multiple modalities.
"We want Tome to be a portal from which you can access anything you need to tell a compelling story," Liriani continued. "Our team is laser-focused on three things: building new tiles and integrations for multimodal storytelling, continuing to infuse AI into the creator's toolset, and making everything refreshingly frictionless."
Additional product updates that broaden app and tile integrations and expand ways to create your best work with AI are expected throughout 2023.
To use generative storytelling to co-create your next presentation, create a free Tome account at https://tome.app.
About Tome
Tome is the AI-powered storytelling format for work and important ideas. Tome combines intuitive design with live content and powerful functionality to create an experience that feels like magic. Tome empowers anyone to express ideas naturally, so they can stop designing slides and start sharing stories. To experience Tome yourself, visit Tome.app.
Media Contact
press@tome.page
A photo accompanying this announcement is available at https://www.globenewswire.com/NewsRoom/AttachmentNg/dbfd3650-8e9e-400c-a4ce-7ee453ecdb63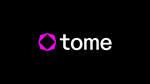 For inquiries or corrections to Press Releases, please reach out to GlobeNewswire.