GlobeNewswire
PureCycle Technologies (PCT) Faces Lawsuit for Possible Disclosure Violations - Hagens Berman
Firm Encourages PCT Investors with Substantial Losses to Contact its Attorneys Before Nov. 28th Deadline
News provided by
Hagens Berman Sobol Shapiro LLP
Nov 20, 2023, 12:02 PM ET
SAN FRANCISCO, Nov. 20, 2023 (GLOBE NEWSWIRE) -- Hagens Berman urges PureCycle Technologies, Inc. (NASDAQ: PCT) investors who suffered substantial losses to submit your losses now. The firm also encourages persons with knowledge who may be able to assist in the investigation to contact its attorneys.

Class Period: Aug. 8, 2023 – Sept. 13, 2023
Lead Plaintiff Deadline: Nov. 28, 2023
Email PCT@hbsslaw.com or call 844-916-0895
PureCycle Technologies, Inc. (NASDAQ: PCT) Securities Fraud Class Action:
The litigation focuses on PureCycle's disclosures about the operation of its first commercial-scale recycled pellet production facility in Lawrence County, Ohio (the "Ironton facility").
More specifically, during Aug. 8 – Aug. 9, 2023, PureCycle assured investors that "the commissioning of Ironton is progressing well," "Ironton is operational" and "Ironton is running and raising production rates every day."
The complaint alleges that PureCycle made false and misleading statements and failed to disclose that: (1) the Ironton facility experienced a full plant power outage on Aug. 7, 2023; and (2) there was a risk of additional failures from the outage.
Investors learned the truth on Sept. 13, 2023, when PureCycle disclosed the Aug. 7 power outage. The company revealed that the outage necessitated a halt to its Ironton operations and required the replacement of a seal that failed due to the outage. The company also revealed that it initiated restart procedures on Sept. 11, 2023.
More recently, on Nov. 3, 2023, Bleeker Street Research reported on conversations with Ohio regulators "that have contradicted company claims, and former employees that have exposed numerous issues."
Among other things, Bleeker Street said that "[t]he Ironton Facility, which was 'mechanically complete' in April, has yet to operate at commercial scale production at all, as confirmed by regulatory documents, interviews with state regulators and permitting engineers." Bleeker Street also said "[t]hrough conversations with former employees, we learned the factory had been having issues with a mechanical failure in its process[]" and "the part that failed in August and September was a mechanical seal on the facility candle filter that has been having issues since the factory was mechanically complete in April."
In addition, Bleeker Street reported that it acquired PureCycle's annual report submitted to the Ohio EPA and said "[t]he documentation reveals that during the twelve months ending June 30, 2023 that 'no salable product has been produced during this PER (permitting evaluation reporting period).'"
Each of these events sent the price of PureCycle shares sharply lower.
If you invested in PureCycle and have substantial losses, or have knowledge that may assist the firm's investigation, submit your losses now »
If you'd like more information and answers to frequently asked questions about the PureCycle case and our investigation, read more »
About Hagens Berman
Hagens Berman is a global plaintiffs' rights complex litigation law firm focusing on corporate accountability through class-action law. The firm is home to a robust securities litigation practice and represents investors as well as whistleblowers, workers, consumers and others in cases achieving real results for those harmed by corporate negligence and fraud. More about the firm and its successes can be found at hbsslaw.com. Follow the firm for updates and news at @ClassActionLaw. 
Attorney advertising.
Past results do not guarantee future outcomes.
Services may be performed by attorneys in any of our offices. 
Contact:
Reed Kathrein, 844-916-0895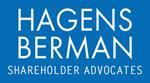 NOTE: This content is not written by or endorsed by "WSPA", its advertisers, or Nexstar Media Inc.
For inquiries or corrections to Press Releases, please reach out to GlobeNewswire.