Practical, fun or both?
Having a hard time figuring out what to gift a pet owner? Most pet owners love their animal companions more than anything, so really, anything that makes life more manageable or fun for them as pet owners is an excellent gift in our book.
However, if you're having trouble narrowing it down, we have the best gift ideas for pet owners who will appreciate your thoughtfulness. For example, we've got a Texsens Pet Backpack Carrier for those who travel with their pets and a Furbo Dog Camera for cautious owners who want to keep an eye on their furry companion when they're not home. We've got plenty of other great gift ideas, too, including treat dispensers, dog pillows and carpet cleaners.
Best dog beds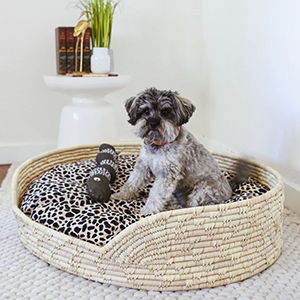 Furb, Mangrove Woven Palm Basket Bed
Your pet will nap or lounge in style and comfort.
Sold by Amazon
This basket bed is as stylish as it is comfortable, and your pet will love relaxing on it day or night. Dried palm leaves are intricately woven into the sturdy frame, and the fluffy animal-print insert makes this basket the perfect place for your pet to nap.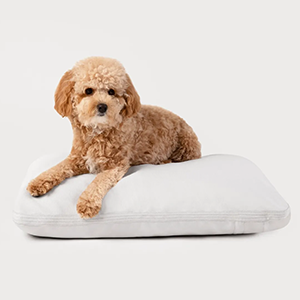 While it's cozy, the tough lining resists scratching and chewing.
Sold by Amazon
If you're looking for something your pet will love to rest on, this pillow is worth a look. Unlike traditional dog beds that cradle them, this pillow gives them maximum mobility so they can easily accommodate themselves. It has a water-repellant cover, shredded foam cushioning and a tough exterior that can withstand biting, chewing and scratching.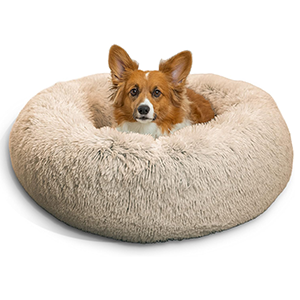 Best Friends by Sheri , Calming Donut Pet Bed
Provides calming comfort for your buddy.
Sold by Amazon
Your pet will love this 30-inch dog bed thanks to its 7-inch-tall bolster that lets them burrow and cuddle up, giving them a calming sense of security. It has a high loft, contains high-density polyfill for superior support and comfort, and can accommodate dogs weighing up to 45 pounds.
Best dog clothes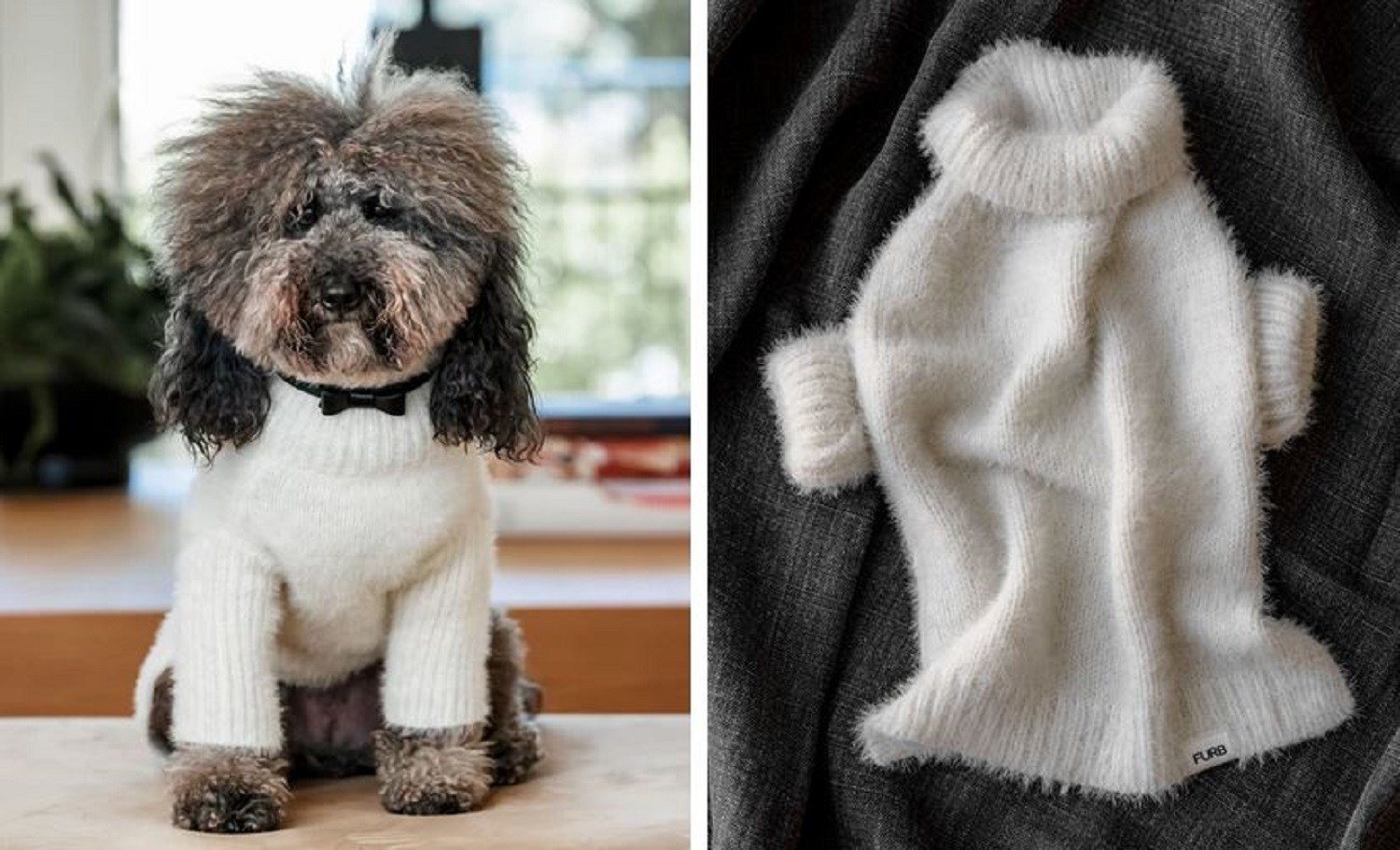 Furb, Billie Ivory Eyelash Knit Dog Sweater
A stylish option for a beloved best friend.
Sold by Amazon
Those who want their loyal furry companion to look as stylish as they do will love this knit dog sweater. It has a soft, breathable design that's not too thick, making it suitable for all-season wear, and the cowl-neck offers an oversized fit for comfort, which can be folded or bunched.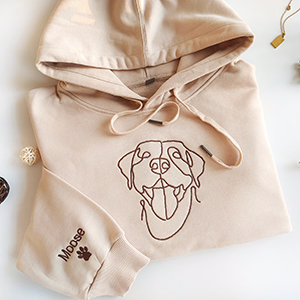 MoonDreamStudioArt, Custom Embroidered Dog Hoodie
Cool, casual style that can be personalized.
Sold by Amazon
MoonDreamStudioArt is a creator that sells fantastic items like this custom embroidered dog hoodie on Etsy. It's a personalized one-line sweatshirt that reflects your dog's personality and keeps your pet warm during the cold-weather season. The sweatshirt available in several colors, and there are eight standard fonts to choose from, but you can also provide the creator with a custom font.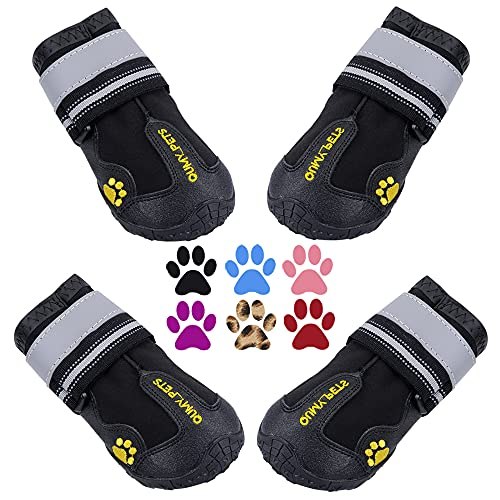 We found this option to be great for long walks on warmer days during our testing.
Sold by Amazon
Dog shoes can prolong the time between your dog's last bath and its next one and help you maintain your clean home. These dog shoes expand with a wide split-seam opening and have two adjustable, reflective straps for a snug fit. The rugged anti-slip sole provides excellent traction, durability and protection from debris.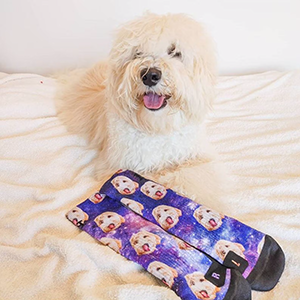 PetPartyCo , Customized Dog Socks
Your pup can wear its face on its paws.
Sold by Amazon
Dog paws need tender loving care, just like the rest of them. These fun socks, made from "nylon, polyester and love," can be customized with your pooch's perfect pout.
Best dog crates and carriers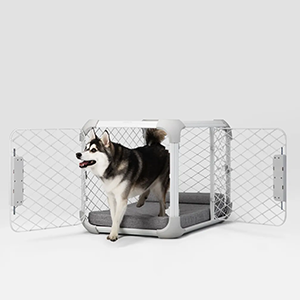 An easy-clean option to keep your pet confined.
Sold by Amazon
Some dog cages and crates can make your pet feel claustrophobic, but this crate has a vertical design to make it feel right at home. It's made with a durable steel frame, has a removable ceiling that converts the crate into a playpen for puppies, and can be customized with four configurable doors. Plus, the removable tray makes it easy to clean.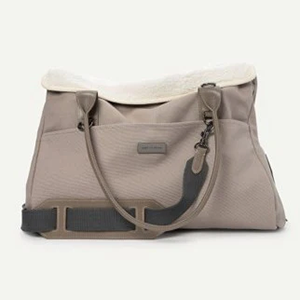 Furb , Maxbone City Carrier in Grey
Style meets function in this pet carrier.
Sold by Amazon
Who did it first, Paris Hilton or Reese Witherspoon in "Legally Blonde"? We can't quite recall who originated the trend of walking around with a tiny pup in a handbag, but if that's what you're going for, you and your pet will love the Maxbone City Carrier. It has a cotton canvas body with a removable faux sherpa lining and gunmetal hardware for a modern look.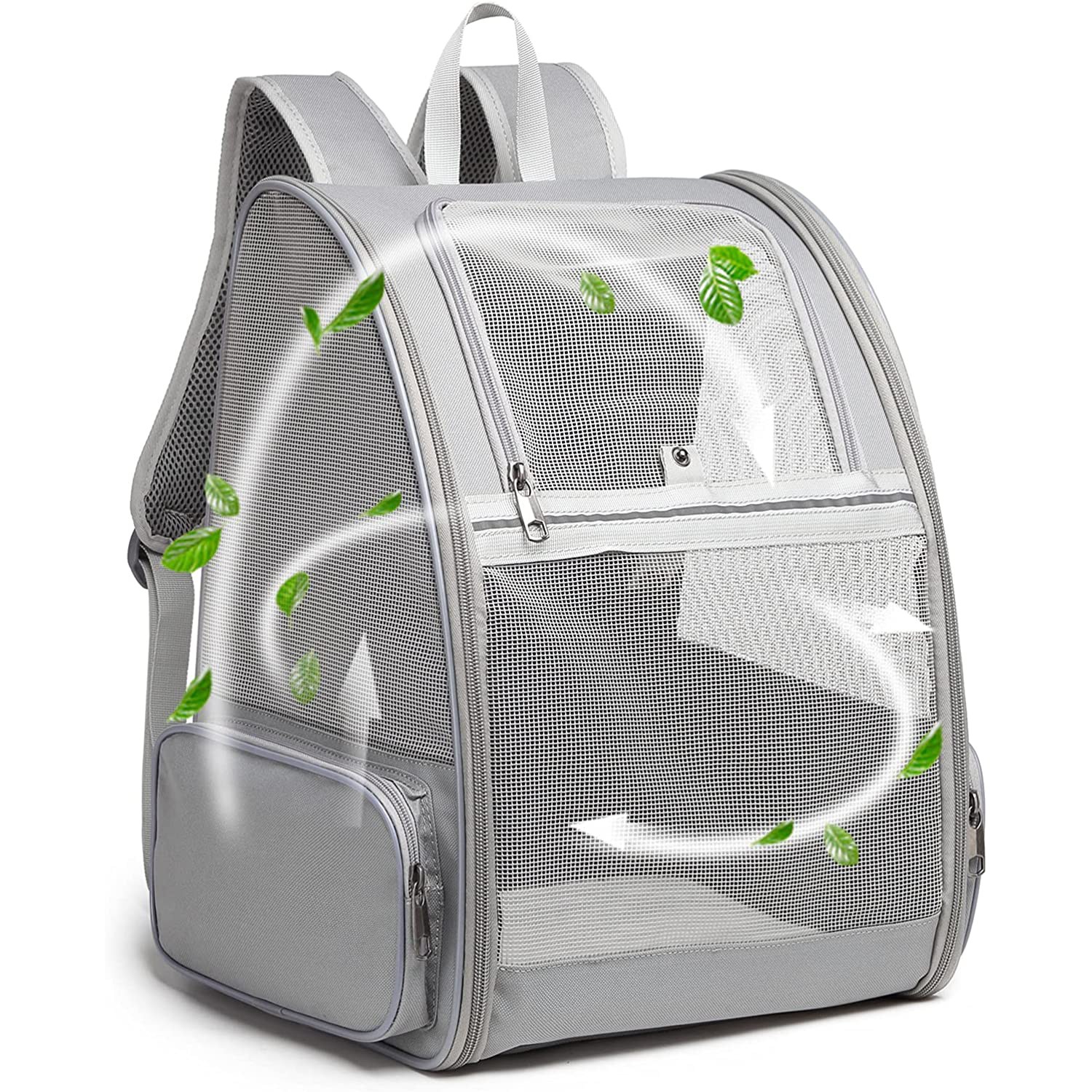 Texsens , Pet Backpack Carrier
A comfortable way to cart your pup or kitty around town.
Sold by Amazon
If you're looking for a comfortable way to keep your puppy or kitten with you wherever you go, you'll want to check out this backpack carrier. The mesh design ensures they have plenty of ventilation, and the chest buckles reduce the weight burden and prevent shoulder straps from shifting as you walk.
Best dog bowls and feeders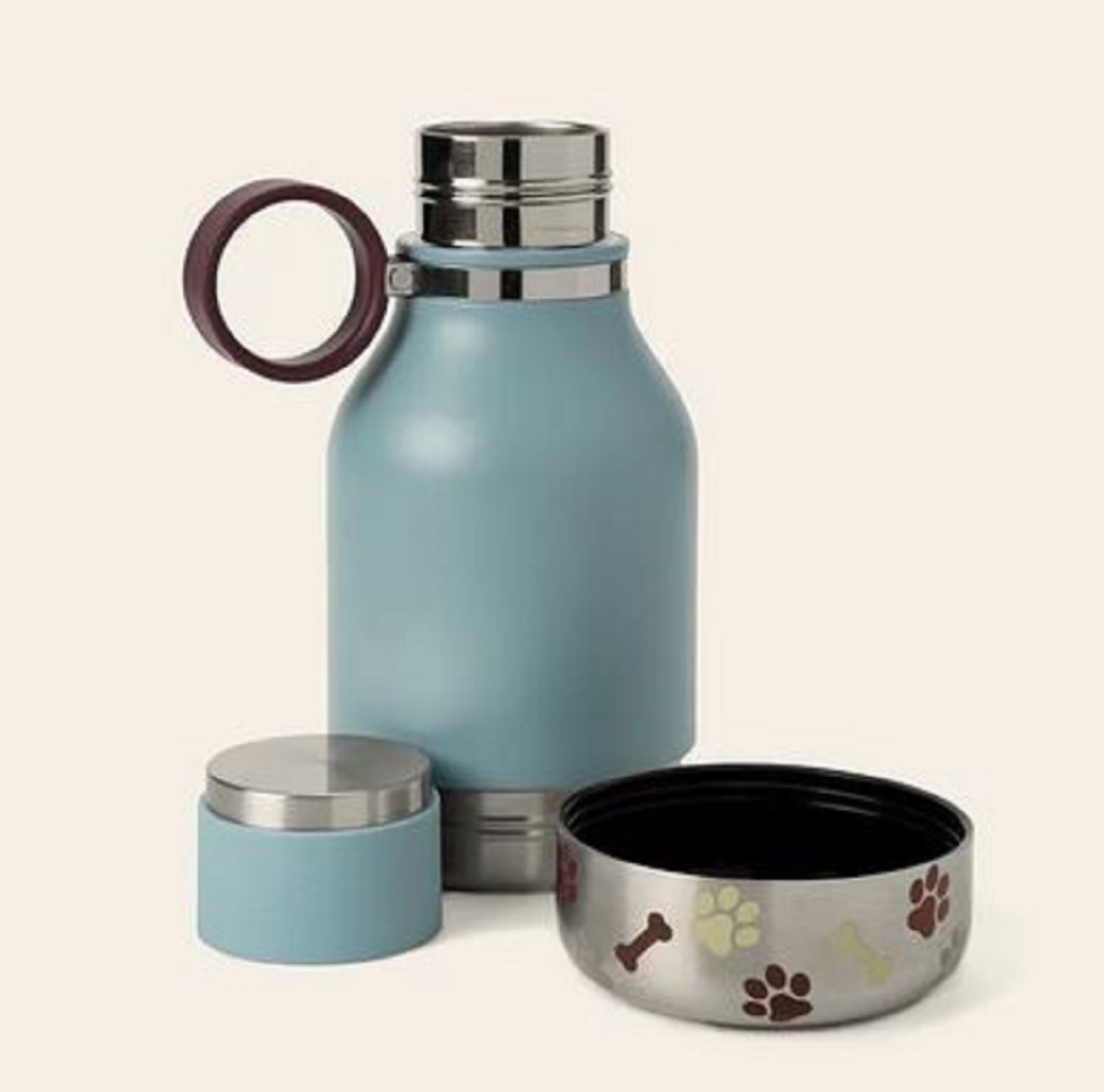 Uncommon Goods, Dog Bowl Bottle
Hydration for on-the-go travels.
Sold by Amazon
Keeping your pet well hydrated is crucial for its health, but it can be challenging while you're both on the go. This container solves that problem and lets you and your pet drink from the same source since the anti-slip base can be used as a dog bowl. All you need to do is screw it off and pour your dog some water to keep it hydrated.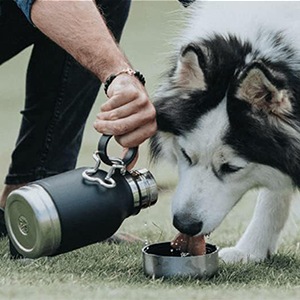 This 37-ounce water bottle has a dog bowl attached for convenient hydration anywhere.
Sold by Amazon
This vacuum-insulated, leakproof water bottle for humans has a dog bowl attached to the bottom. It's available in a variety of colors, such as pink, blue, white and black. It holds about 37 ounces.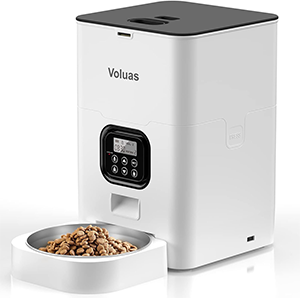 Your pet won't go hungry while you're out of the house.
Sold by Amazon
Few things are as stressful and worrisome as knowing your beloved pet's food may have run out while you're gone, but with an automatic dog feeder, you'll likely never have to worry about that again. This pet feeder can be programmed ahead of time to dispense your pet's food, set appropriate portions and record a voice message for up to 10 seconds.
Best pet storage products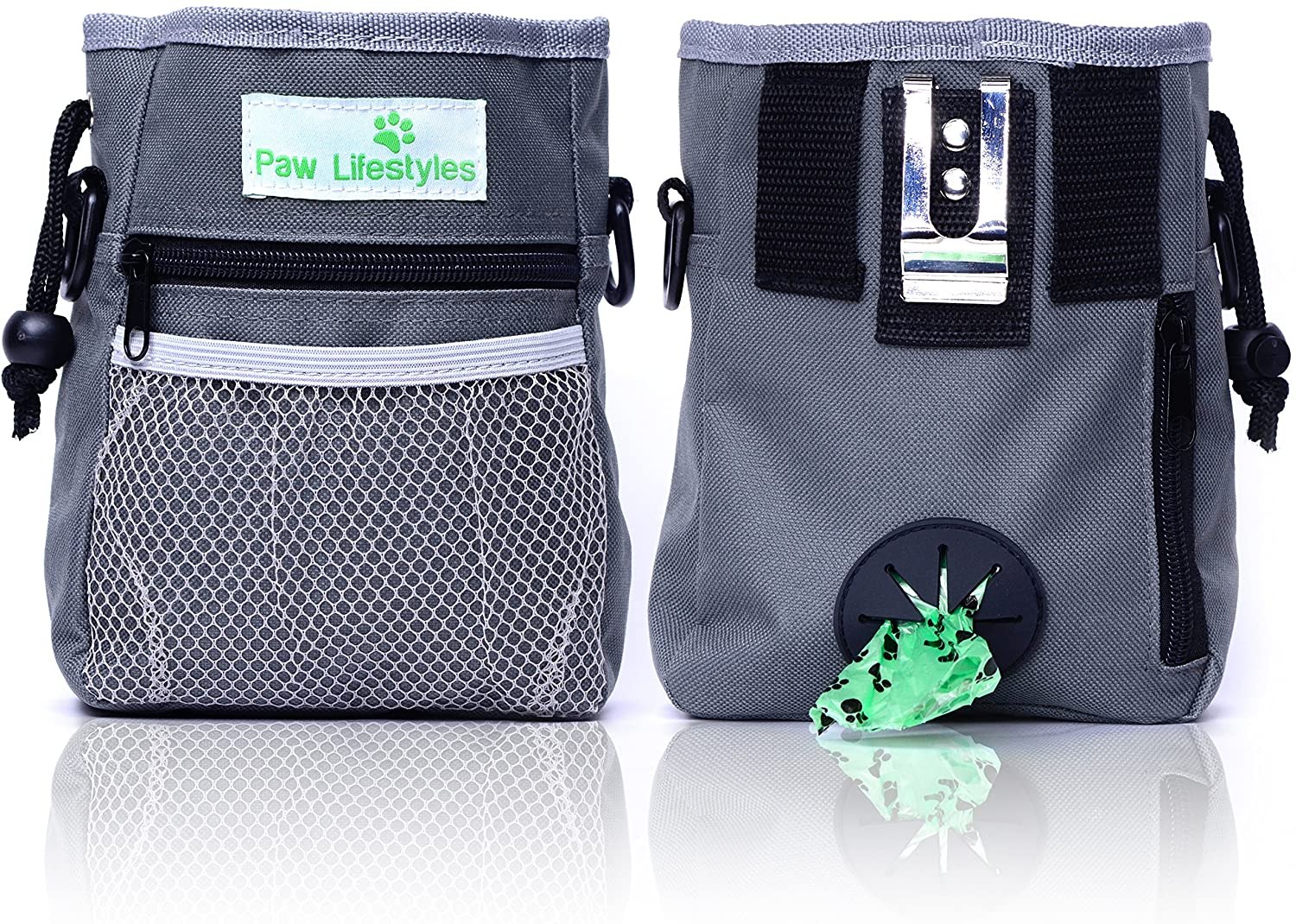 Paw Lifestyles, Dog Treat Training Pouch
A durable bag with ample compartments for stashing dog treats and other essential items.
Sold by Amazon
Training your dog is crucial for good behavior; you'll want to reward that with a treat or two occasionally. This dog-treat training pouch has a mesh pocket for keeping snacks for your pet handy and other compartments for storing toys and accessories. It can be worn with a removable waistband, shoulder strap or belt clip.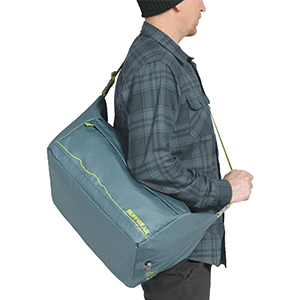 This bag offers lots of room for hauling your pet's toys and essentials.
Sold by Amazon
If you're going on a trip with your furry companion, you'll want to keep all their essentials and accessories on hand and well organized. This bag is large enough to hold food, bowls, leashes, toys and pickup bags, and the wide opening makes it easy to take things out or store them.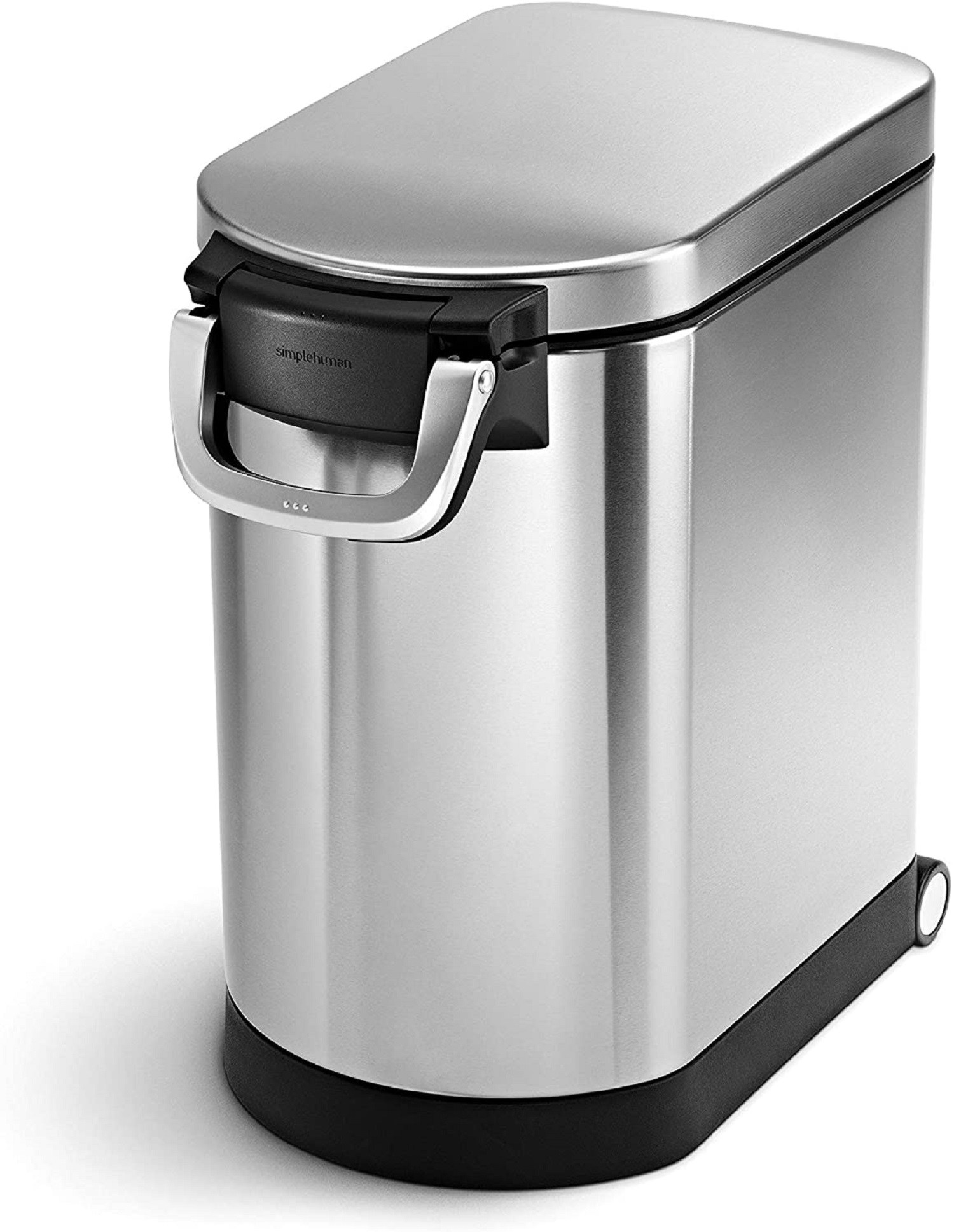 simplehuman, 27-Pound Medium Pet Food Storage Container
A stylish, well-made storage container with premium features that pet owners appreciate.
Sold by Amazon
Rather than keeping your pet's food in its original packaging, we recommend storing it in a container to keep it fresh. This storage container has a 25-liter capacity, an airtight seal, a magnetic lid-mounted scoop and a lock-tight handle to prevent pets from opening it.
Best vacuums for pet hair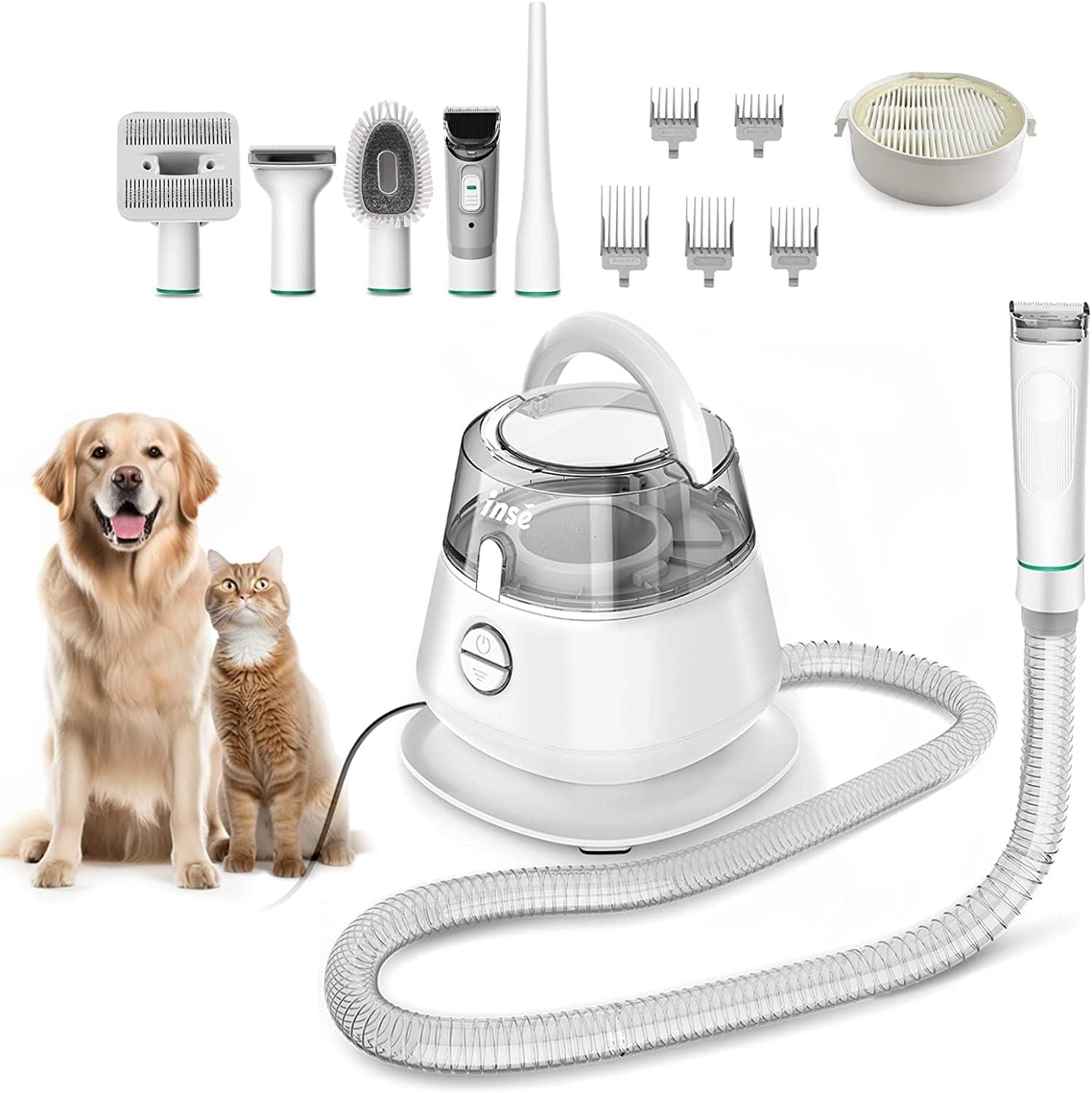 With a wide variety of attachments and suction modes, our team found this to be perfect for keeping your pet's coat healthy.
Sold by Amazon
Grooming your pet can be expensive, but it's essential to keep up with it to keep it and your home clean. However, with this pet grooming vacuum, you can do it yourself and save money on groomers. It has five tools, including brushes and clippers to tame your dog's fur and four length guards.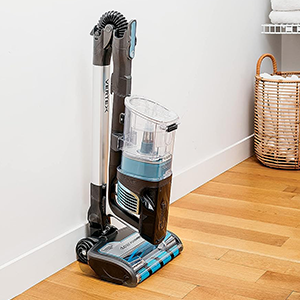 Shark, Vertex (IZ462H) Cordless Stick Vacuum for Pet Hair
Shark is a reputable brand known for tackling pet hair.
Sold by Amazon
You probably love your pet more than anything, but you likely loathe all the hair they drop and leave scattered around your home. This vacuum is highly efficient at lifting pet hair and works on carpet, upholstery and hard floors. MultiFlex technology lets you get to hard-to-reach areas, and the battery lasts up to 60 minutes.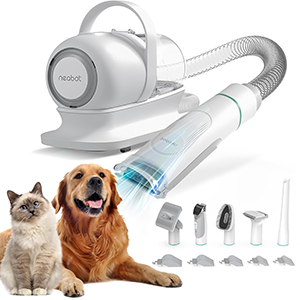 neabot, P1 Pro Pet Grooming Kit
Its low-noise design keeps your pet from getting jittery.
Sold by Amazon
This kit has everything you need to trim and groom your dog's fur. It has four combo guards of varying lengths, two grooming brushes and clippers. Plus, the low-noise operational design makes pets feel at ease, and the vacuum collects 99% of pet hair for easy cleanup.
More of the best pet cleaning products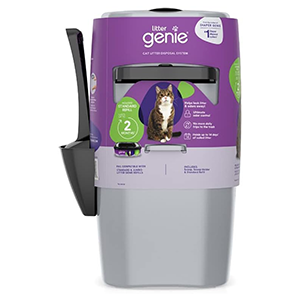 Litter Genie, Standard Pail (Silver) Cat Litter Box Waste Disposal System for Odor Control
Makes litter scooping less smelly.
Sold by Amazon
With this waste disposal system, you won't have to smell unpleasant kitty-litter odor. It holds up to 14 days' worth of kitty litter, and the refill bag has a multi-layer film to trap odor for up to eight weeks. The compact design makes it suitable for bathrooms and underneath kitchen sinks.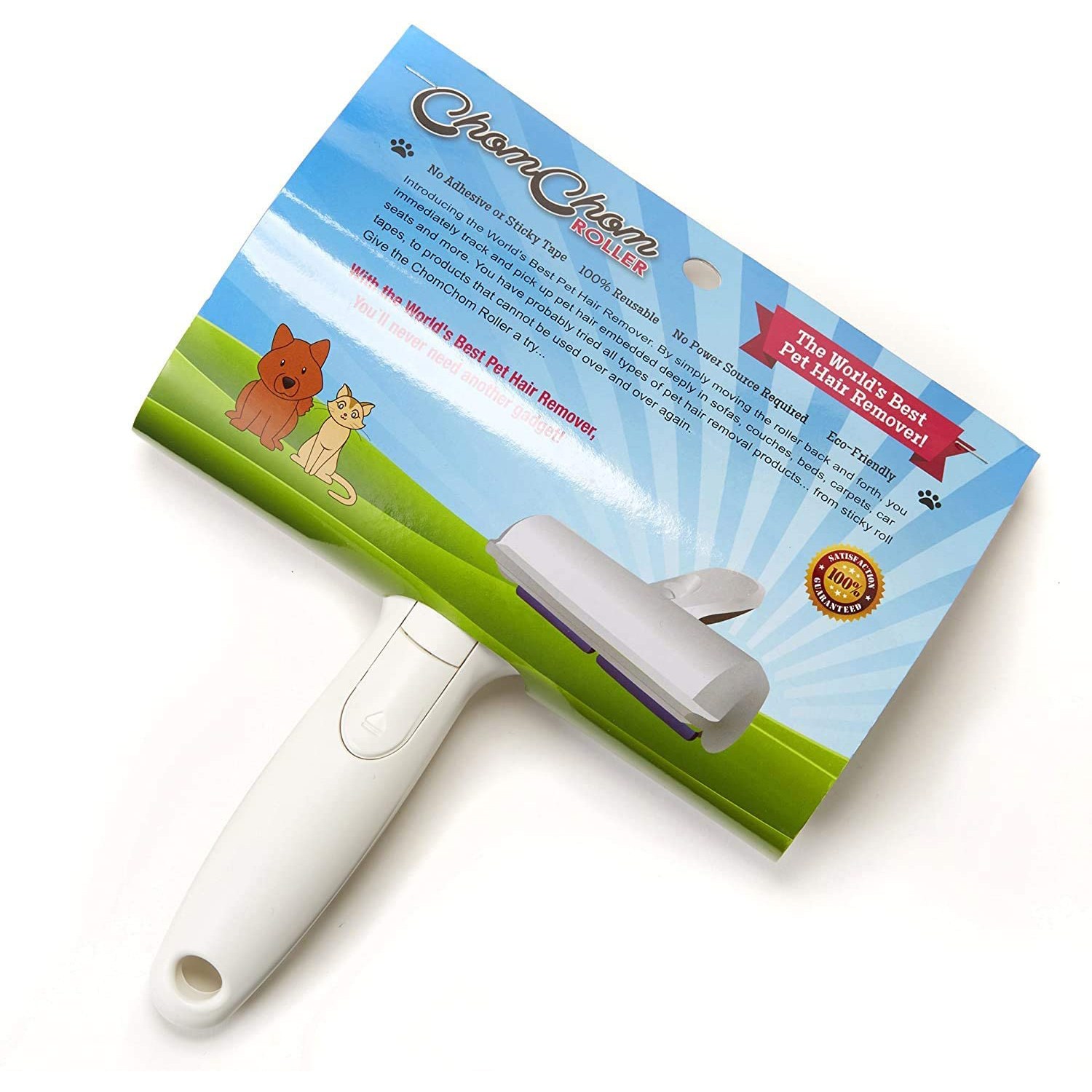 Chom Chom Roller, Pet Hair Remover
Quality-made roller that forgoes adhesive in favor of static electricity to simply and effectively remove unwanted pet hair from clothes and furniture.
Sold by Amazon
Those who are fed up with plucking pet hair from their clothing can get it done quickly with this hair-remover roller. It's effective for removing lint, cat hair and dog hair, and the extra-sticky adhesive ensures that you pick up every strand of hair from clothing, upholstery and other soft surfaces. Plus, it has a reusable design since, unlike other rollers, it doesn't use tape.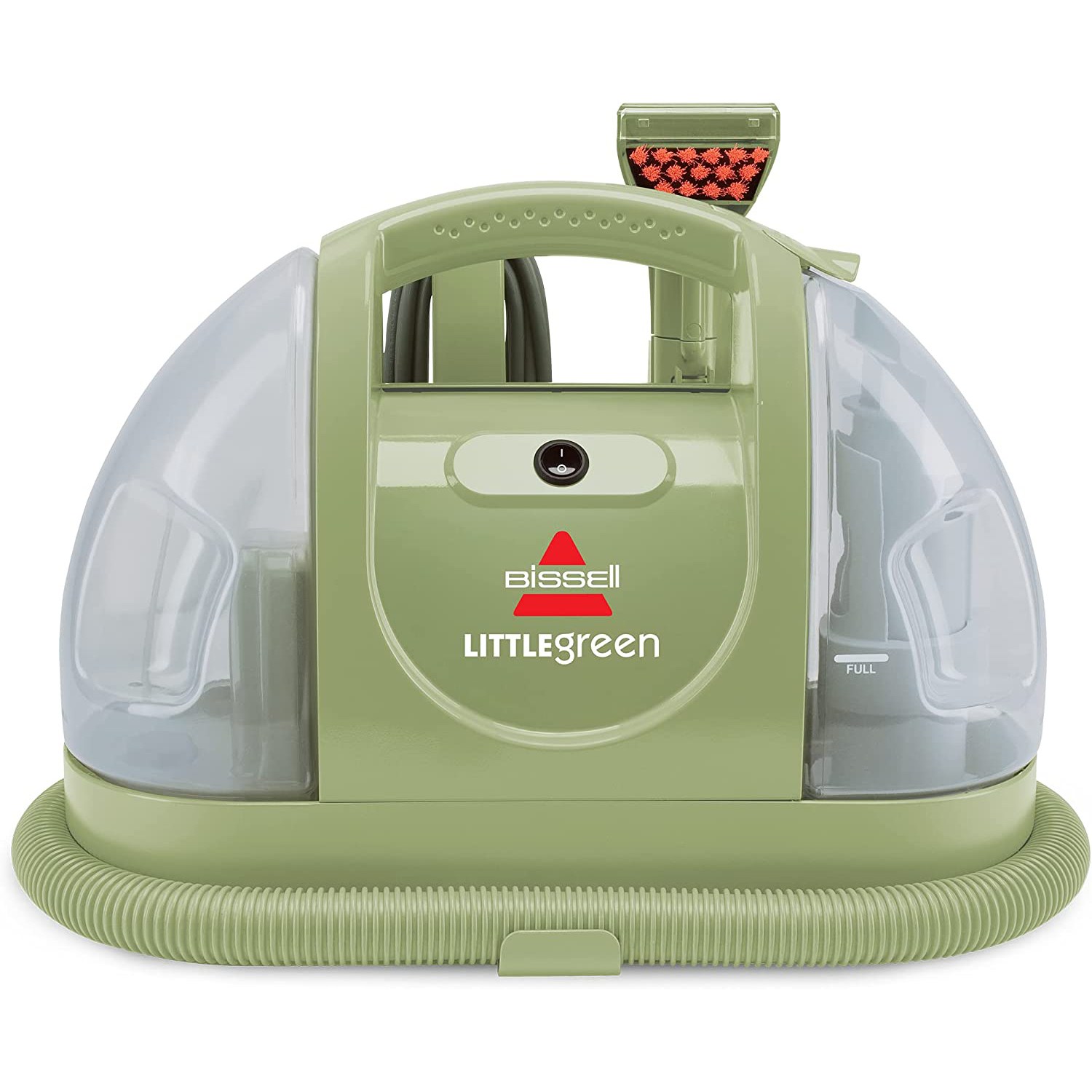 Bissell , Little Green Multi-Purpose Pet Spot Cleaner
Pets are messy, but this spot cleaner helps you maintain your sanity.
Sold by Amazon
We love our furry friends, but being a pet owner means you'll have to deal with messes in your home. This multipurpose carpet cleaner has a portable design and is excellent at removing spots and stains from carpets, upholstery and car interiors. The hose is self-cleaning and has a tool designed to eliminate tough stains.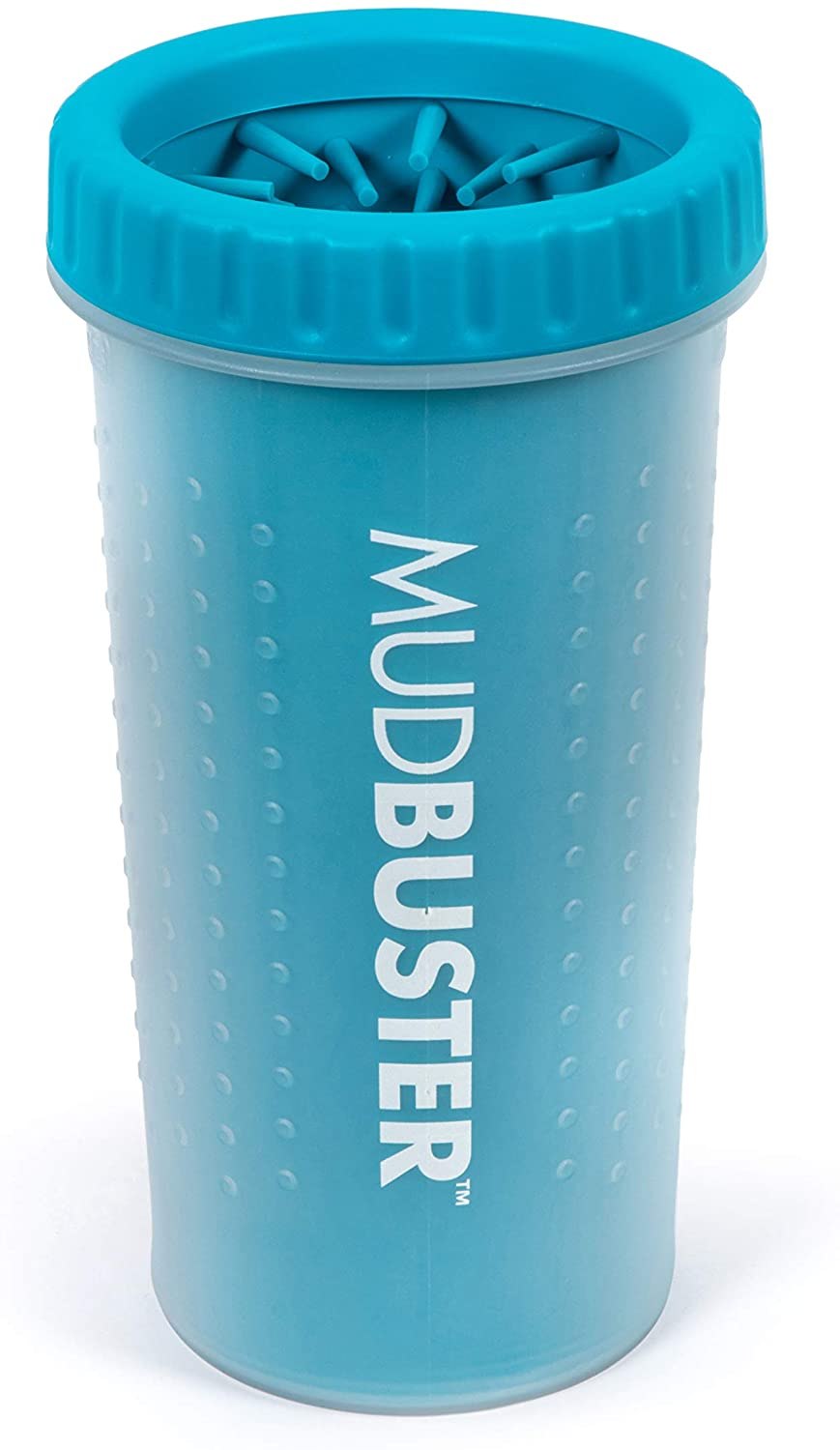 Dexas, MudBuster Portable Dog Paw Cleaner
A well-loved and well-made design that's as popular with pups as it is with pet parents.
Sold by Amazon
Clean your dog's paws anywhere with this portable dog paw cleaner. It's suitable for medium dogs with 2.5- to 3.5-inch-wide paws and has gentle silicone bristles for removing dirt and mud from your dog's claws and paws. All you need to do is add water, insert the paw, twist it, remove it and dab it dry.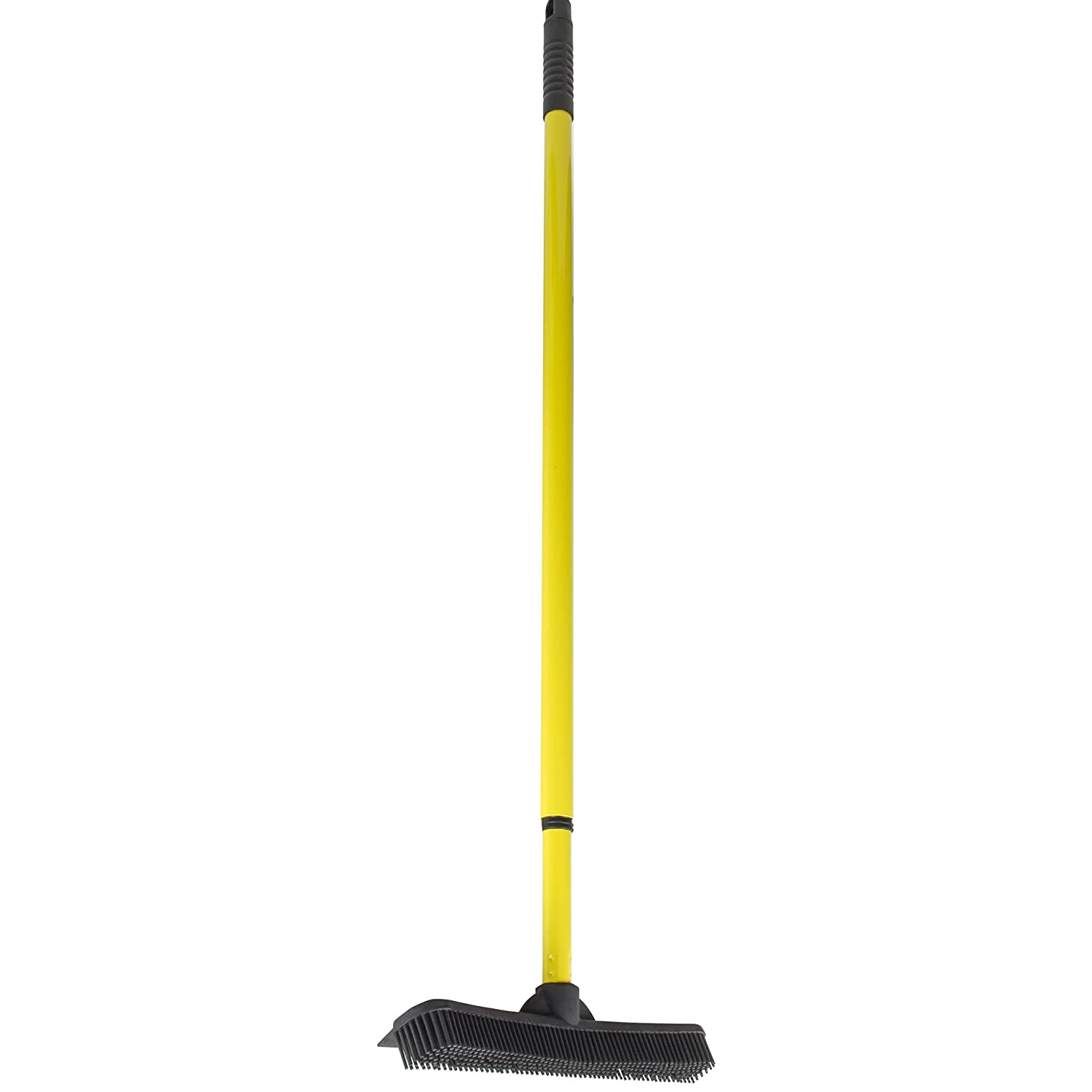 FURemover, FURemover Broom with Squeegee
Buyers wanting a design for sweeping without paying top-of-the-line prices will appreciate this affordable model.
Sold by Amazon
This broom and squeegee combo fur remover is excellent for removing pet hairs in your home. It's a carpet brush that works like a magnet to attract cat and dog hairs and works on various surfaces, including carpets, tiles and windows. The telescopic handle is length-adjustable, and it's easy to clean the head to remove hairs.
More of the best gifts for pet owners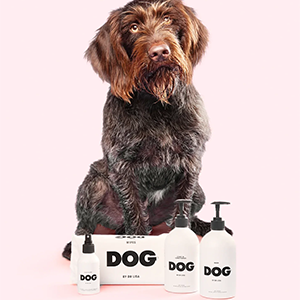 Leave your pup smelling sweet with this handy kit.
Sold by Amazon
If you're taking your dog's hygiene into your own hands, you'll want this premium dog-washing starter kit to keep your pet looking, smelling and feeling clean for longer. This set includes an 80-pack of wipes, leave-in conditioner, cologne and wash. The gentle wash and conditioner moisturize your dog's hair and skin, and you select the fragrance of the cologne.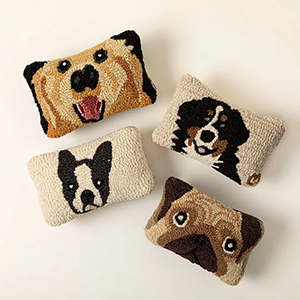 Uncommon Goods, Dog Face Pillow
What pet parent wouldn't love a pup-themed pillow?
Sold by Amazon
Any dog lover appreciates high-quality dog-themed décor, making this dog pillow the perfect gift. It's handmade from wool for a soft but old-fashioned look and feel, and there are several dog breeds to choose from for the design.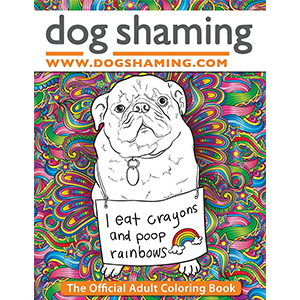 Rascal Face Press, Dog Shaming: The Official Adult Coloring Book
Throw in a box of crayons or colored markers and you've got a great combo gift for coloring enthusiasts.
Sold by Amazon
Dog lovers with an artistic side will love this coloring book. However, we also recommend it for those with a good sense of humor, as it features 35 creative designs with funny dog-shaming illustrations. Many of the designs are abstract, and the book is composed of 71 pages of high-quality, pure-white paper.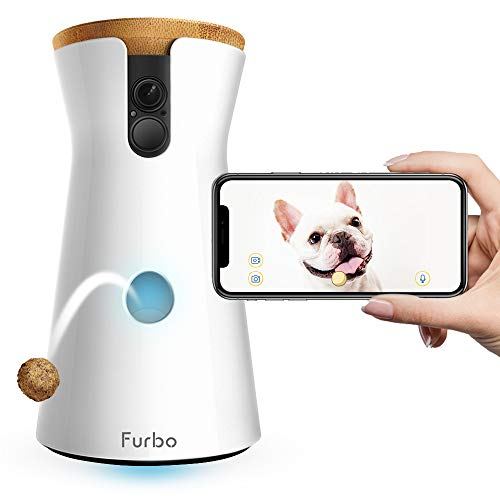 One of the most popular dog cameras. Offers the most features for interacting with your furry friend.
Sold by Amazon
Keeping an eye on your dog while you're away is a breeze with this dog camera. It offers a high-definition live view to monitor your pet, and two-way audio lets you interact with them. Plus, you can use the Furbo smartphone app to dispense a treat, and there's an integrated barking detector that alerts you when your dog is barking.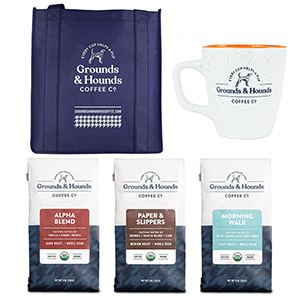 Grounds and Hounds , Sunrise Rescue Gift Pack
Ground and Hounds donates 20% of all of its profits to pet rescue organizations to help them provide a second chance to pets.
Sold by Amazon
What's the best gift for a dog lover who also appreciates a good cup of coffee? We recommend this Grounds and Hounds Rescue Gift Pack, featuring three 6-ounce bags of 100% organic blends. You can choose from whole bean or ground options, and you'll get a white or orange 14-ounce, dishwasher-safe mug and a tote bag.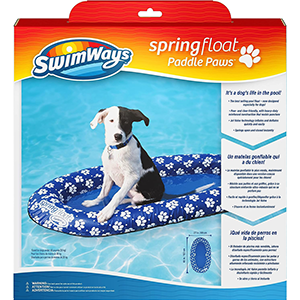 SwimWays , Paddle Paws Spring Float Dog Raft
Help your pet make a splash at the next pool party.
Sold by Amazon
Some dogs dread getting wet, but others want to bask in the cool water with their owner, especially in a pool when it's hot during the summer. This dog raft is designed for small- to medium-sized dogs and has a reinforced fabric cover that can withstand paws and claws, and inner springs provide excellent support and stability so your dog always feels secure.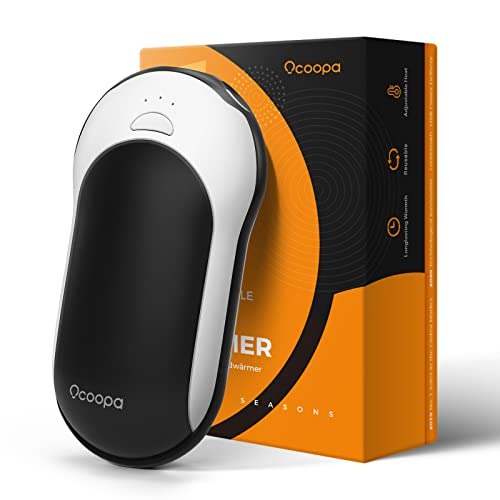 OCOOPA, Rechargeable Hand Warmer
Hand-friendly shape and powerful heat output make this warmer a must-have gadget for keeping hands toasty.
Sold by Amazon
Wintertime can make walking your dog a total drag, but it's still necessary for them to exercise and do their business. Bundling up goes without saying, but keeping your hands from freezing is much easier with a good pair of hand warmers. These provide up to 15 hours of heat on a full charge and offer three heat levels.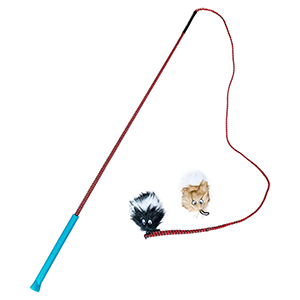 Outward Hound, Tail Teaser Durable Dog Wand with Soft Plush Toy
Dogs just want to have fun, and this toy helps them do just that, while keeping them active to boot.
Sold by Amazon
This dog wand is a fun way to spend quality time with your beloved pet and it helps keep them active and in shape. It comes with two plush toys that squeak and rattle to stimulate your dog's natural hunting instincts, and it can be paired with agility kits to teach your pet tricks or train them with commands.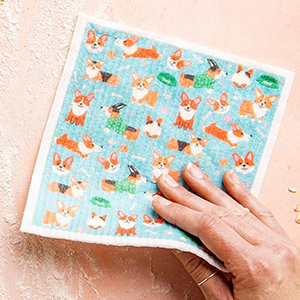 Puppington , Pupper Towels 12 Pack Swedish Dishcloths
Pick up after your furry friends with these cloths, which are machine-washable and can be used over and over again.
Sold by Amazon
These towels make cleaning after your furry companion a breeze. They're excellent for wiping away spills, picking up pet hair and cleaning messes. They're ultra-soft and can be washed and reused up to 200 times. Plus, they're machine-washable, dishwasher-safe and 100% compostable.
Coway, Airmega AP-1512HH(W) True HEPA Purifier
Clear the air with this filter, which is perfect for homes where furry beings reside.
Sold by Amazon
Owning a pet can make the air in your home feel and smell musty, making this air purifier an excellent gift for pet owners with smaller homes. The four-stage filtration system captures and eliminates up to 99. 97% of particles in the air, including pollen, pollutants and other allergens, and the sensor lets you know how clean your air is.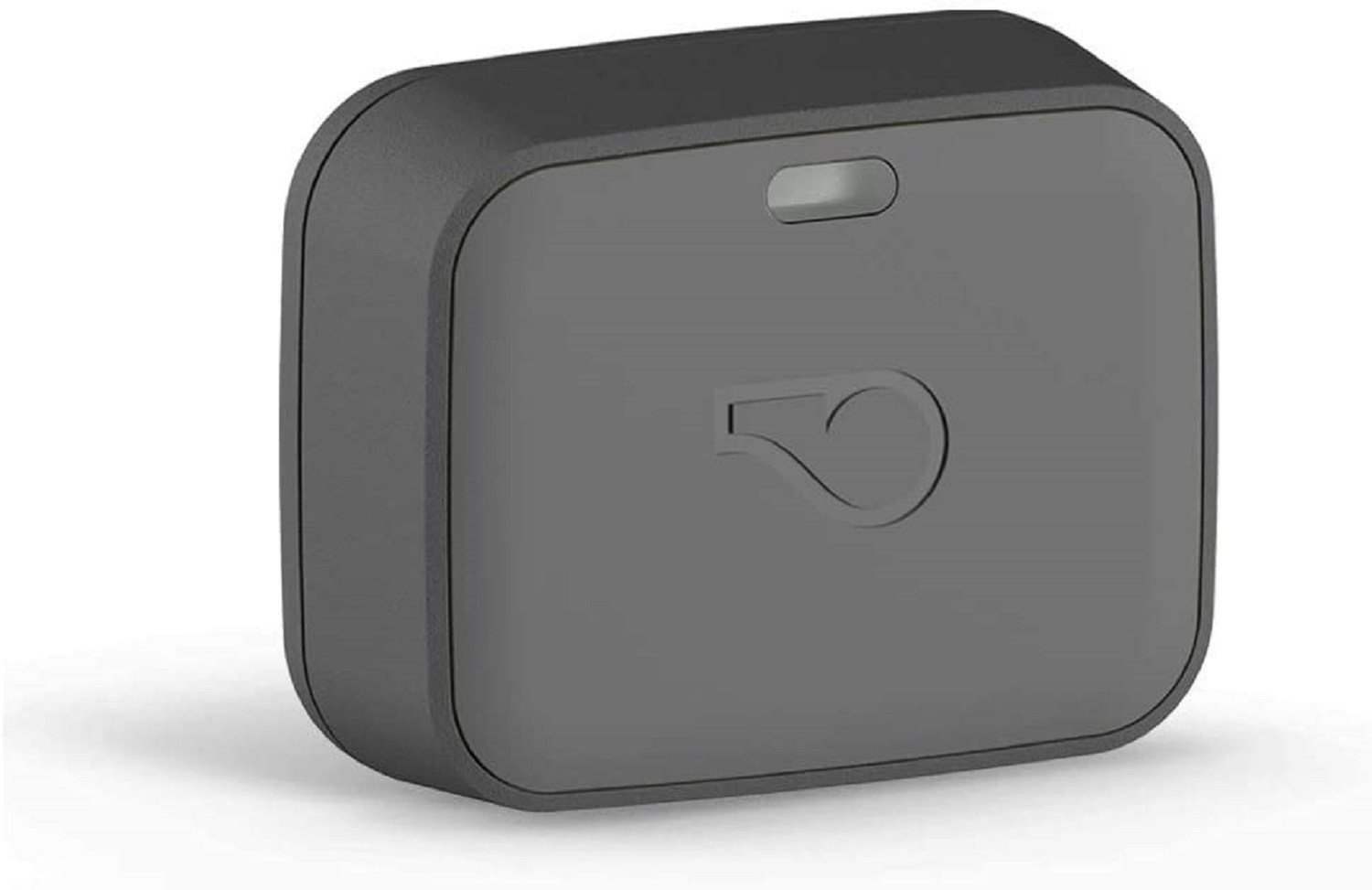 Whistle, Go Explore Health and Location Tracker
A multipurpose pet tracker that monitors distance, fitness, and health, and is made by a top brand. A worthwhile investment for the premium price.
Sold by Amazon
If your pet has a tendency to bolt, you need this pet tracker. When your furry friend leaves a safe zone, you will be alerted, and live GPS tracking will help you pinpoint their location. This device can also track your pet's health and fitness levels to help you catch any issues and make sure they are getting the daily exercise they need.
Want to shop the best products at the best prices? Check out Daily Deals from BestReviews.
Sign up here to receive the BestReviews weekly newsletter for useful advice on new products and noteworthy deals.
Kevin Luna writes for BestReviews. BestReviews has helped millions of consumers simplify their purchasing decisions, saving them time and money.
Copyright 2023 BestReviews, a Nexstar company. All rights reserved.